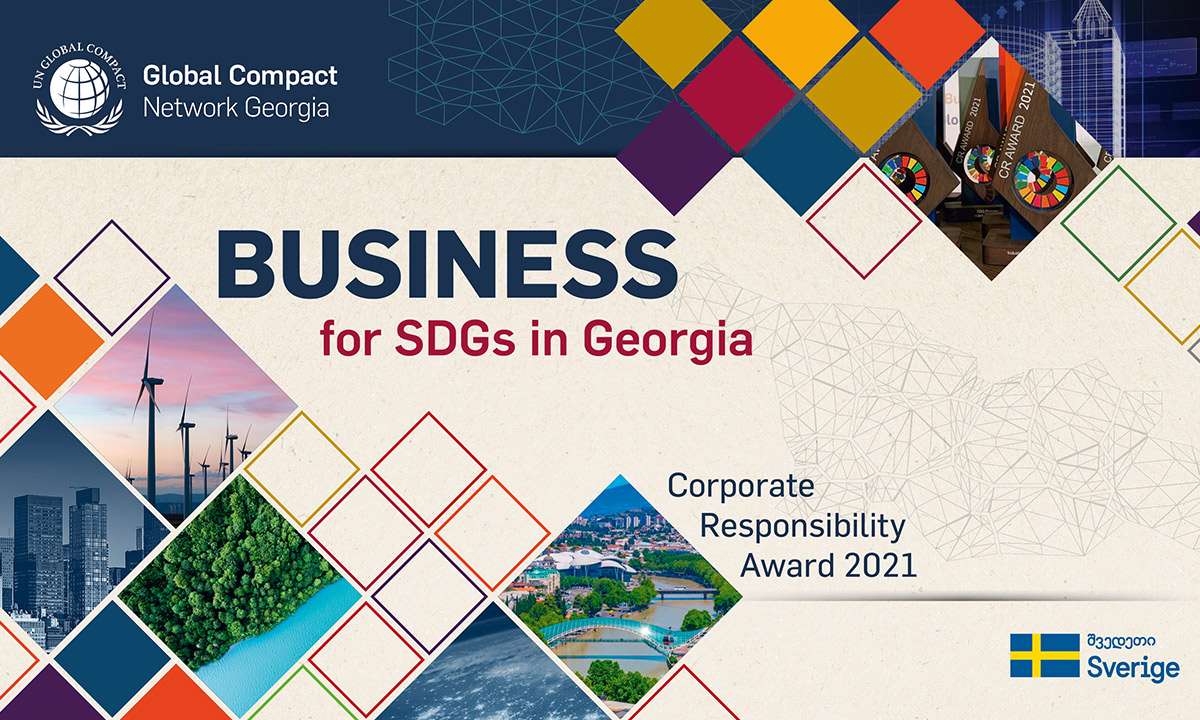 Corporate Responsibility Award 2021 "Business for SDGs"
Corporate Responsibility Award 2021 "Business for SDGs" is organised for the fourth time in Georgia by the Global Compact Network Georgia, with the support from the Swedish Government. The award aims to develop the standards of corporate responsibility in the country and to encourage business involvement in the implementation of Sustainable Development Agenda.
Corporate Responsibility Award is intended for companies that operate in the Georgian market. This is an award for business which is progressive, modern value-based; operating based on the high standards, that work towards sustainable development and bring long-term benefits to both: the company and the society.
Today, when Georgia and the world face the global challenge of COVID-19, the role of corporate responsibility is growing and becoming particularly important.
Terms and conditions of the award:
The author of the project/initiative must be an entrepreneurial legal entity (small, medium or large enterprise) operating in Georgia;
Submitted project/initiative must correspond to the award nominations;
Submitted project initiative should be ongoing or completed in 2020-2021;
The company can submit several applications in different nominations.
Nominations:
SDG 4 – Quality Education:
SDG 5 – Gender Equality:
SDG 8 – Decent Work and Economic Growth;
SDG 11 – Sustainable Cities and Communities;
SDG 12 – Responsible Consumption and Production;
SDG 17 – Partnerships for Sustainable Development.
Stages of the award:
The award will be held in two stages:
1st Stage: July 15th – August 30th
Companies willing to participate must fill out a short application form  on the website www.corporateaward.ge.
2nd Stage: August 30th – September 20th   
The companies that have passed the second stage will be contacted individually by Global Compact Network Georgia and they will have the opportunity to submit a full application of the project/initiative for the award.
The Award will enable companies to:
Gain recognition among the peers as leaders in corporate sustainability;
Increase their credibility and reputation among the consumers, partners and investors;
Influence Corporate Responsibility development in Georgia, through sharing best practices.

CR award is organized by Global Compact Network Georgia with the support from the Swedish Government within the project "Leadership for Sustainable Development in Georgia".